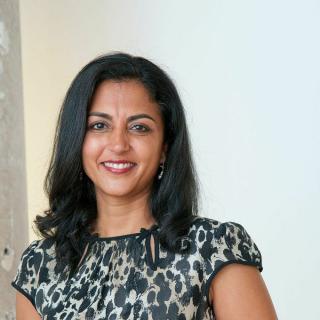 Keynote
Neha Sangwan, MD
CEO and founder of Intuitive Intelligence
With the practicality of an engineer and the heart and soul of a doctor, Neha Sangwan, MD, has been changing lives with her powerful, interactive keynotes for two decades. As an internal medicine physician, she has discovered the prescription for inspiring personal and cultural transformation and healing burnout across industries, from tech to finance to healthcare. With simple yet profound tools, she connects the dots between health and leadership performance and inspires personal accountability, mutual trust and clear communication across teams — catalyzing an organization's ability to adapt to change, innovate and excel under pressure.
Sangwan works with innovative organizations, such as American Express, Google and Apple, and also partners with forward-thinking healthcare institutions and universities, such as Kaiser Permanente, Harvard's Brigham & Women's Hospital, Stanford University and the University of Michigan. Sangwan has pioneered programs that measurably improve metrics related to culture transformation, employee engagement and productivity, customer satisfaction, provider-patient communication and client satisfaction. She is the author of Talk Rx: Five Steps to Honest Conversations That Create Connection, Health, and Happiness (Hay House, 2015) and has had the honor of sharing her wisdom on multiple TEDx stages. Sangwan's common sense, yet profound approach has won praise from best-selling thought leaders, ranging from Dr. Wayne Dyer to Dr. Mark Hyman and has positively influenced and inspired the lives of audiences around the globe.
Sangwan is the CEO and founder of Intuitive Intelligence, a leadership and culture transformation consulting firm. By combining the science of medicine with the art of communication, she improves productivity and outcomes. Her innovative program, the i-Five Experience™, uses scientifically proven techniques to reduce stress, heal burnout, build resilience and foster individual and team accountability.
She began her teaching career as a faculty member for Kaiser Permanente's Northern California Physician Education and Development Team. There, she designed and delivered innovative workshops that transformed toxic medical cultures into healing organizations. For example, under her guidance, an operating room team with a 20-year cultural history of bullying, union conflict and destructive social dynamics embraced a new culture of collaborative team engagement and increased productivity through mutual trust, respect and authentic communication. Sangwan has also translated this program to corporate settings, where she works with clients in consulting, technology, higher education and finance.
Sessions