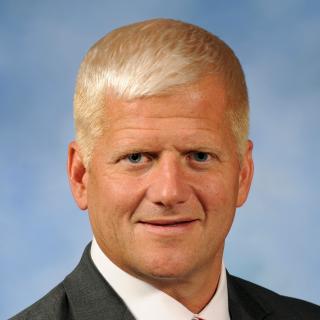 Pre-Conference Workshop
Rustin Moore, DVM, PhD Diplomate ACVS
Dean, The Ohio State University College of Veterinary Medicine; Ruth Stanton Chair in Veterinary Medicine
A two-time graduate of the college, Dr. Moore has served Ohio State as chair of the Department of Veterinary Clinical Sciences, executive director of the Veterinary Medical Center, associate dean for Clinical and Outreach Programs and associate executive dean.
He has taught at all levels of the undergraduate, professional and graduate curricula, both at Ohio State and at Louisiana State University (LSU), where he served on the LSU faculty from 1994 to 2006. He has served as an advisor, co-advisor or committee member for 21 doctoral or master's students, as well as the clinical advisor for more than 25 interns and residents.
His clinical interests include equine lameness, surgery and colic and its associated complications, and his research has led to his being a principal or co-investigator on approximately 120 funded grants. In addition, he has authored or co-authored more than 15 book chapters, and his work has been published in over 120 peer- or editor-reviewed manuscripts and 175 scientific abstracts. His service on editor-reviewed boards includes the journal Veterinary Surgery, and he has served as a manuscript reviewer for several additional prestigious journals. He has been a frequently invited speaker at national and international equine veterinary clinical, research and educational symposia. Today, he speaks regularly about the Human-Animal Bond and the Power of a Pet (zooeyia), the importance of Diversity and Inclusion, and the topic of One Health.
In addition to extensive and substantial service to his department, college and the university, Dr. Moore has contributed wide-ranging service and outreach efforts to his discipline, to the community and beyond. For example, while at LSU, he assumed emergency leadership of a large-scale rescue effort of nearly 500 horses and other animals during the aftermath of Hurricanes Katrina and Rita. A national leader, he has served as president of the American Association of Veterinary Clinicians, on the board of directors of the American Association of Equine Practitioners, on the board of regents of the American College of Veterinary Surgeons, and as an equine health advisory board member for the Ohio Department of Agriculture, among others. He currently serves as the dean representative on The Ohio State University Foundation Board, member of the Board of Trustees for the Ohio Wildlife Center, member of the Board of Directors for the Columbus Zoo & Aquarium, and an appointed member of the Ohio State Racing Commission Medication Committee.
In addition, among his numerous awards, he received the Pfizer Award for Research Excellence, the School of Veterinary Medicine's Distinguished Faculty, and the LSU Distinguished Scholar Award. He received the Lifetime Achievement Award by the International Equine Conference on Laminitis and Diseases of the Foot in 2013 and was inducted into West Virginia University's Academy of Distinguished Alumni in 2015. He received the Jack Judy Distinguished Service Award from the American Association of Veterinary Clinicians in 2017.
A native of Spencer, WV, he earned a BS degree, summa cum laude, from West Virginia University and a DVM, summa cum laude, and a PhD from The Ohio State University. In addition, he is a Diplomate of the American College of Veterinary Surgeons.